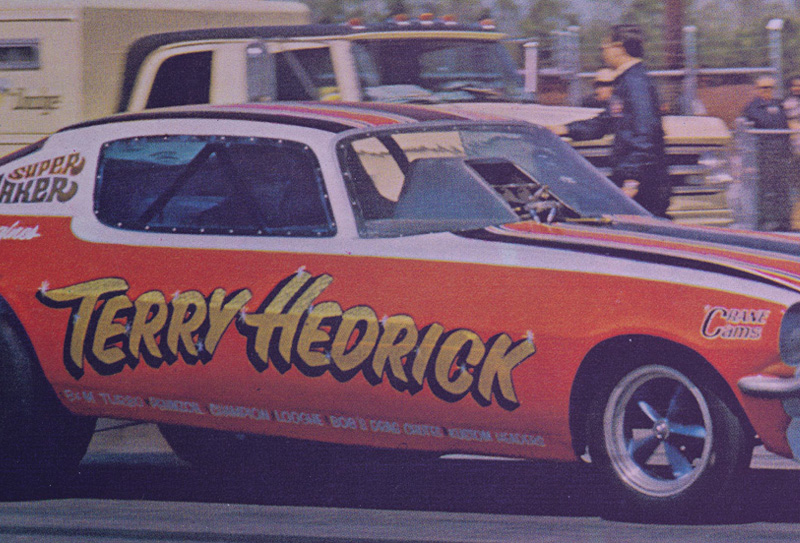 The People of Precision Industries
The Precision Industries owners and technicians possess many years of hard earned experience in torque converter manufacturing. The team leader is Terry Hedrick, president of the company. Terry brings many years of racing and automotive repair business experience to the company.
As a world class racing champion during the early Funny Car days, Terry is no stranger to getting the maximum performance out of the available technology. Terry's car, The Supershaker, was the first Chevy powered car to run in the 6's in the quarter mile and the first to go over 200 MPH in the quarter mile. After retiring from active race car driving, Terry owned and operated highly successful automotive related businesses, most recently AAA Transmission and Sunstate Converters in Fresno, CA.
Terry is recognized by his peers as being one of the few masters of the art of diagnosing and understanding torque converters and automatic transmissions and drivetrains. All of the team at Precision Industries have a unique background which puts a premium on performance. This experience is focused on a single goal – to bring you the best products the industry can offer.
High Performance & Heavy Duty Torque Converters
Precision Industries is based in Whiteville, Tennessee, east of the city of Memphis, central to a large population of performance car enthusiasts. Assembly and manufacturing of our high quality torque converters uses state of the art CNC equipment to bring a high degree of sophistication and accuracy to our custom torque converters. The PI product holds close and repeatable tolerances to assure a torque converter worthy of your confidence. State of the art electronic balancing of your final assembly assures smooth, wear-free operation.
Precision Industries goes the extra mile to ensure our torque converters turn daily drivers into weekend hot rods! Precision Industries offers a 1 time free stall change within the first 2 years of the 5 year warranty. All you need to do is fill out our Converter Order Form and submit it to us.
Precision Industries was the first aftermarket torque converter manufacturer to design, develop and manufacturer multi disc torque converters. Our history of providing high performance torque converters has made us a leading name in the industry, a position that we maintain with honor. Precision Industries torque converters are built to increased torque multiplication, mileage, and decrease temperatures along with the ability to withstand extreme abuse, heavy towing and sled pulling.
By taking the time to look through our selection of the best torque converters on the market, you're already making the decision to purchase a converter that will make your automatic transmission equipped vehicle have the performance that you expect.
WHAT OUR CUSTOMERS ARE SAYING.

I'm such a believer in your converters. Every time I read on article about a hot Vette or Camaro with a TCI, Bamp or any other brand converter, it makes me shake my head. Sometimes I wish I could call these folks and tell them what a big mistake they made. Although your converter is more expensive than many others, it is clearly a case of getting what you pay for. I appreciate the great service and the outstanding product.
» Dallas Moore, Corvettes of Korea



I have talked to many of my customers that have installed a Vigilante converter. Most claim four tenths of a second improvement in the ¼ mile ET. I have also witnessed this during testing in my own shop. The Vigilante performs so well that I use one in my super-comp dragster. These converters deliver. There is no better choice.
» T.J. Tracey, Advance Performance


WHAT OUR CUSTOMERS ARE SAYING.
I'm such a believer in your converters. Every time I read on article about a hot Vette or Camaro with a TCI, Bamp or any other brand converter, it makes me shake my head. Sometimes I wish I could call these folks and tell them what a big mistake they made. Although your converter is more expensive than many others, it is clearly a case of getting what you pay for. I appreciate the great service and the outstanding product.
» Dallas Moore, Corvettes of Korea
"I have talked to many of my customers that have installed a Vigilante converter. Most claim four tenths of a second improvement in the ¼ mile ET. I have also witnessed this during testing in my own shop. The Vigilante performs so well that I use one in my super-comp dragster. These converters deliver. There is no better choice."
» T.J. Tracey, Advance Performance